AMSC STUDENT EMAIL SYSTEM ACCESS
Effective Friday, January 25, 2019 at 9:00 AM, all AMSC student email passwords have been changed as scheduled.  The changes are associated with required steps for authentication services impacting your access to AMSC systems.
Follow the procedures below in order to access your AMSC Student Email Account.
Please review the following brief overview regarding the student email system features followed by the links for accessing your account.

Microsoft Web Applications:

Microsoft Outlook
Provides business-class email, personal and shared calendars, 50 GB of storage email space per user account.



Microsoft Word, Excel, PowerPoint, OneNote
Create and edit Word, Excel, PowerPoint, and OneNote files via a web browser.

Microsoft OneDrive
Provides personal file storage.
Microsoft Lync
Conduct meetings over the web, screen sharing, and instant messaging.

Following are procedures to login to your new Office 365 account:
Step 1: If you know your AMSC student email address proceed to Step 4.
Step 2: Click here to obtain your AMSC student email address by using the Retrieve Your Email Address Feature or by logging into the Student Portal.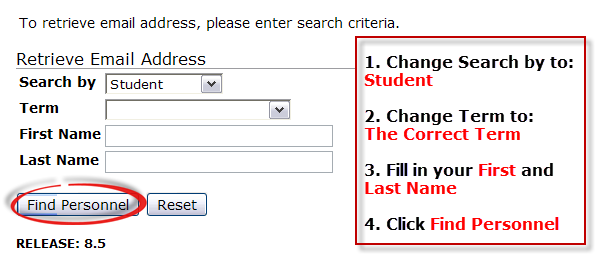 Step 3: Return to this page and proceed to step 4.
Step 4: Note there is no co-branding in Office 365, so you won't see AMSC logos on the web interface. Click the following picture or link to login using your complete email address (username@ginger.atlm.edu) and your password.
The default password is "FlMMDDYYYY" where F is the capital initial of your first name, l is the lowercase initial of your last name and MMDDYYYY is your eight-digit birthdate. The system will require you to change this default password once you login.